First DCMM standard demonstration units in Our city
---
Gather Strength-Shandong CHINSC Drive Technology Co., Ltd. has become one of the first DCMM standard demonstration units in Our city。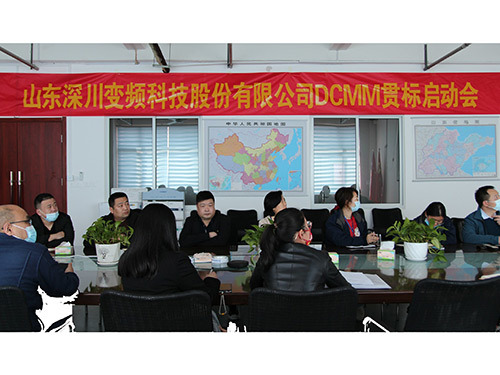 According to the 《Requirements of the Circular on Accelerating the Digital Transformation of State-owned Enterprises》 issued by The State Council, it is clearly pointed out that data governance is the only way for the digital transformation of enterprises. In order to deeply implement the national big data strategy, build a digital economy with data as the key element and improve the data management capability of enterprises. On the afternoon of April 7, 2022, Shandong CHINSC Drive Technology Co.,Ltd held the DCMM standard implementation kick-off meeting.
DCMM is the first national standard officially released in the field of data management in China. It aims to help enterprises establish and evaluate their data management capabilities by using advanced data management concepts and methods, continuously improve data management organizations, procedures and systems, and give full play to the value of data in promoting enterprises to informatization, digitization and intelligent development.
As one of the first batch of qualified enterprises, It is both an inspiration and a spur to Shandong CHINSC Drive Technology Co.,Ltd. The company will take this as a driving force, continue to focus on cutting-edge technologies such as big data, further accelerate the digital transformation of enterprises, promote the use of data resources and factor market cultivation, and promote the digital and intelligent transformation of Shandong CHINSC Drive Technology Co.,Ltd. Actively promote the standard implementation construction work, help enterprises to promote data strategy, data governance, data architecture, data application, data security and other all-round ability to improve, Shandong CHINSC Drive Technology Co.,Ltd is always to implement the value of "Technological Innovation as the Soul, Quality as the Guarantee", strictly in accordance with international standards, In product research and development, design, production, installation and commissioning and after-sales service process to implement fine, standardized, scientific management and procedural control. We should give full play to our own advantages in brand and technology resources, integrate our innovative thinking and digital technology resources, do a good job in the pilot demonstration of DCMM evaluation, and help the healthy development of digital economy.